The winners of the Belgian Fashion Awards have been announced during Fashion Talks in the Handelsbeurs in Antwerp. The awards were organised for the fourth time to honour emerging as well as established talent from the Belgian fashion scene. Discover the winners in the different categories.
The 14-member international jury presided over by jury chairman Chris Dercon, who is president of the Grand Palais in Paris, handed out no less than seven awards. Besides the Belgian art historian, the jury also included fashion designer Christian Wijnants (BE), Pascale Mussard (FR), and Vena Brykalin of Vogue Ukraine. The awards themselves this year are a creation of the Antwerp designer and ceramist Wouter Hoste. Each winner will receive a unique copy.
1. Jury Prize: Walter Van Beirendonck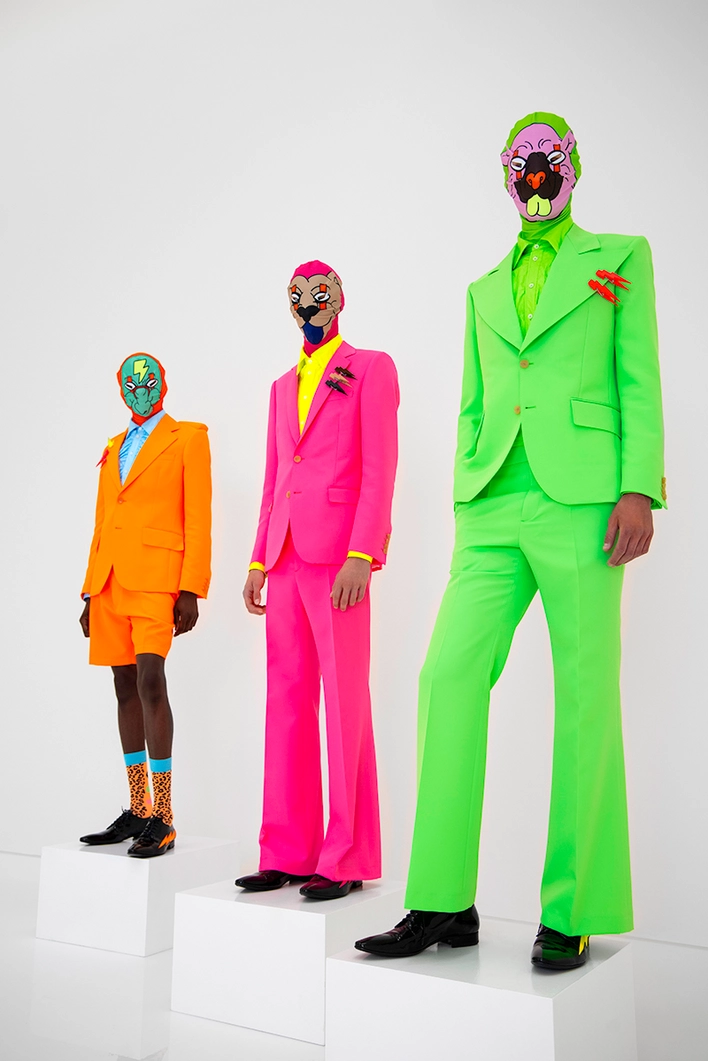 Over the last four decades, Walter Van Beirendonck has built an impressive international career. The maverick of Antwerp fashion is known for his colourful collections, his unique perception of beauty, his spectacular fashion shows and the socially critical topics touched on in his designs. In 1980, Van Beirendonck graduated from the Royal Academy of Fine Arts in Antwerp, and was named one of 'The Antwerp Six'. In addition to designing his own collections, Van Beirendonck continues to design for other houses and labels, such as ZulupaPUWA for JBC, as well as working on projects in art, theatre and music. Van Beirendonck has also been a highly valued asset at the Royal Academy of Fine Arts in Antwerp, initially as a teacher and since 2007 as the director of the fashion department.
'Walter Van Beirendonck appeals to an international audience. In particular, his designs give his views on politics, gender, and equality a voice even in corona times. He was present more than ever before on the international scene in the last two years,' concluded the jury's verdict.
Read the interview with Walter in our magazine!
2. Designer of the Year: Nicolas di Felice
Nicolas Di Felice studied at La Cambre National School of Visual Arts in Brussels before starting to work as an assistant for Nicolas Ghesquière. The Belgian designer worked for Ghesquière twice, first at Balenciaga and then at Louis Vuitton – where he graduated from junior to senior designer – with an interval at Raf Simons during his time at Dior. In September 2020, 60 years after Courrèges established his house in Paris, Nicolas Di Felice became its artistic director. He has brought a modern edge to Courrèges' iconic minimal vision, creating a dialogue between the heritage of the house, and contemporary pieces such as clubwear, trucker jackets, bomber jackets, five-pocket trousers and T-shirts.
The jury praised him for the 'unlikely and brave work he has done over the last two years. It's not easy to take over a fashion house that has a strong imprint and give it your own flair.'
3. Professional of the Year: Benoît Bethume
Benoît Bethume is a Belgian art director, stylist and photographer. After graduating from La Cambre Mode(s), he took a step back from pure creation to focus on image and brand identity. He became the editor of several magazines and took a leading role as consultant for Belgian and international companies such as Christian Wijnants, Tim van Steenbergen, L'Oreal, Lacoste, Longchamp, Cartier, Prada, Kenzo, Véronique Leroy, Nina Ricci, Petit Bateau, Carven and Guillaume Henry. Bethume also collaborates on several projects with Marine Serre. Their latest joint venture is the film Amor Fati, about existentialism in the way we manage our feelings in daily life.
'In addition to his creative contribution, he is one of the rare critical voices in the fashion industry,' the jury said.
4. Changemaker of the Year: Cédric Vanhoeck – Resortecs
A Changemaker from the fashion industry will also be celebrated for the first time. This category was created to give a voice to someone who influences the industry in an innovative way. This honour was given to Resortecs. The young Brussels-based company looks to contribute to a world in need of innovative solutions. They do this by taking an industrial approach to the recycling process, which includes the development of a high-tech easy-to-recycle yarn.
5. Emerging Talent of the Year: Meryll Rogge
Meryll Rogge studied fashion at the Royal Academy of Fine Arts in Antwerp. After her bachelor's degree, she worked in New York as Women's Collection Designer at Marc Jacobs for seven years. She also worked as Head of Women's Design at Dries Van Noten for four years. In 2020, Rogge launched her eponymous autumn/winter collection at Paris Fashion Week. Meryll Rogge's collections are known for their forward-looking style, combined with classic themes. The contemporary label focuses on eclectic silhouettes with an '80s-inspired spirit. Meryll Rogge's ever-shifting approach to fashion embraces the ultra masculine just as effortlessly as the decorative opulence of the feminine. The Belgium-based designer works closely with local artisans to create playful pieces in exclusive prints.
'It's been a long time since we've seen such a success story for someone so young. Not only does she already have a distinct style, she continues to challenge herself.'
In addition to a €5,000 prize, the Fashion & Lace Museum of Brussels is purchasing a silhouette of her for their permanent collection.
6. Most promising Graduate of the Year: Lili Schreiber – La Cambre
Lili Schreiber started her collection with an imaginary museum of artists she loves, who inspire her: Lynnette Yiadom Boyakje, Amy Sherald, Emma Amos, Meret Oppenheim and Claude Cahun. They juggle their identities (be it race, gender or other). They break the codes and impose their look, diverting, transforming, imagining and questioning. The pieces of the collection are modular, in the sense that each of them can be worn in a different way, to be decided by the wearer. The men's trousers become a skirt, the oversized men's shirt becomes a jacket, two shirts are paired to form a bomber jacket, cuts and materials enter into a dialogue. Lili Schreiber emphasises the inclusiveness – pieces called feminine go into dialogue with pieces of the male wardrobe.
7. Fashion Brand of the Year: Imprévu
The Liège fashion brand Imprévu, founded by Justine God in 2016, walked away with the Audience Award for Fashion Brand of the Year. Imprévu makes women's fashion that is ethical as well as aesthetic, with a young, dynamic look. If you want to buy something, be quick about it: in order to prevent overproduction, a new limited edition collection is launched every month.
Fashion label Bernadette wins the UPR award from the eponymous PR and communications agency. They can count on their professional assistance for one year.
The Belgian Fashion Awards have been organised annually since 2017 by the organisations Flanders DC, MAD Brussels, Wallonia-Brussels Design Mode (WBDM), and the magazines Knack Weekend and Le Vif Weekend. These awards were created to highlight the reputation, creativity, and diversity of Belgian fashion both at home and abroad. We also want to pay attention here to those who work behind the scenes and provide a stage for lesser-known names and new talent. Annually, the awards are a stimulus to celebrate Belgian fashion, meet each other, and deepen ties across the creative sector. Besides being surreal, modest, industrious, avant-garde, and no-nonsense, the organisers show that Belgian fashion also stands for independence, personality, and sustainability. At the Belgian Fashion Awards, we give a voice to the Belgian fashion industry, which is usually humble. 
Discover more in our magazine.