While you may have already seen Fritz Hansen's new N01 chair, you are probably not aware of its remarkable backstory. Every element of this Japanese design by the Nendo design collective was produced in Ardooie, West Flanders. A great accomplishment for the chair manufacturer De Zetel in other words. High time for a chat with its CEO!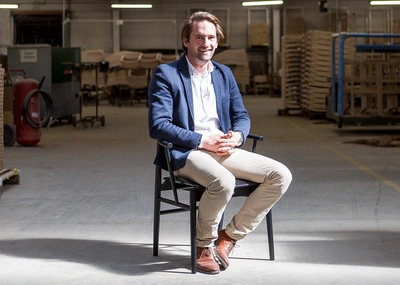 About customer relations and co-creation
Family-owned company De Zetel, with its fourth-generation CEO David Behaegel, has been specialising in the production of wooden chairs and tables for over 90 years. "In a nutshell, we produce chairs and tables in various types of wood for other brands," David Behaegel says. "This means we produce approximately 3,000 chairs every week. Some of these are semi-manufactured products but we also often produce completely finished products, with upholstery, taking care of every last detail."
As such, De Zetel is the only chair manufacturer to produce such volumes. "You can respond very flexibly to your customers' needs when you're the only player in your segment," according to David Behaegel. "We work one-on-one with our customers - the distributors - instead of with intermediaries, which is often the case in other companies. Other companies like ours tend to buy and sell products, meaning they often only have two colours. We produce in-house, which allows us to offer a vast array of colours."
We believe in talking to our customers. It is our way of keeping up with the latest trends.
De Zetel also engages in a dialogue with its customers, to maintain a close relationship with the customer and monitor customers' changing needs, now and in the future. "We think that listening to what our customers have to say is very important, so you'll regularly find us at trade shows and other similar events," the CEO explains. "We have really no other choice if we want to keep up with the latest trends."
But the company goes one step further, working closely with the customer. "It's true, co-creation is our secret recipe for success," David Behaegel reveals. "This means someone might approach us with a design, after which we develop a prototype together. In most cases, we work with our customer, but we have already partnered with other designers in the past to produce a high-quality result. After we have tested the first prototype, we may produce a second prototype, if necessary, depending on the required alterations. Then we produce a limited series. We pride ourselves on our sustainability, which is why we always produce small quantities. Perhaps that is the essence of what we do: we make quality products at fair prices. Clearly De Zetel's mission is sustainability.
While De Zetel has flourished, this is a tough-as-nails industry, as the company has experienced first-hand. "First and foremost, this is a really competitive market," David Behaegel says. "When my father took over the business, we had 17 competitors. Many no longer exist, and we ourselves have acquired some of the others. This has always been part of our vision, we have always focused on the bigger picture, since day one."
To maintain our large volumes, we have established our own brand, for the hospitality market.
But De Zetel was also forced to explore new markets to remain relevant. "At one point we realised that our customers were ordering smaller and smaller volumes," David Behaegel remembers. "Which makes sense as we used to target the residential market. But families no longer own several tables, with different chairs. Nowadays most households have one table, and a fixed number of chairs. But in a sense we were also forced to start producing smaller volumes for a second reason. Nowadays many distributors want to market their own brand, which is why they prefer smaller quantities. We adapted our volumes in order not to exclude this group. And we also decided to launch our own brand. We now target the hospitality market with Z-Editions. And by tapping into the hospitality industry, we were able to continue to sell large volumes. So as you can see we are adapting to the market's needs as well as mapping out our own course and innovating when and where necessary. I do believe by the way that the secret to survival in this industry is constant innovation or you will end up losing out."
Tapping into new markets also means going international for a production-based company like De Zetel. Nowadays exports account for approximately 70% of the company's business. "Again, this is part of our grand ambition, which we have had from the outset," David Behaegel explains. "If you want to play a pioneering role in a specific industry, you can't stop at the borders."
Digitisation and expertise too
These days, if you talk innovation, you also have to talk digitisation. De Zetel too realises that it is operating in a digital world. "We're working on it," he says. "We're currently in the process of creating an online configurator for distributors with which they can develop their desired product even more quickly."
Isn't De Zetel worried about the competition from online furniture shops? "Of course we feel the hot breath of players such as Ikea on our necks, but we don't fear them at all," David Behaegel explains. "Especially because we know that our company's human capital continues to make the difference. Knowledge and expertise are priceless, and in that sense De Zetel has an edge over the rest. Our team is so skilled at woodworking and has such an expertise in wood that it is very difficult to copy us or brush us aside."
Discover more in our magazine.