Walter Van Beirendonck reveiced the Jury Prize at the Belgian Fashion Awards after almost four decades an of impressive career showing no signs of letting up or slowing down. Good reason to catch up with him.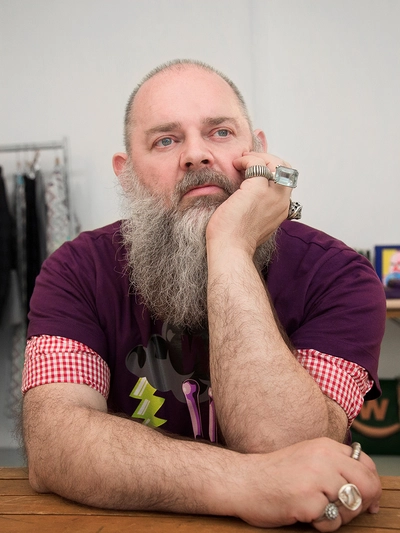 Who is Walter Van Beirendonck?
graduated from the fashion department of the Antwerp Royal Academy of Fine Arts in 1980
founded his own Walter Van Beirendonck label in 1983 
joined his alma mater as a lecturer in 1985
burst onto the scene as one of 'The Antwerp Six', along with Dirk Van Saene, Dries Van Noten, Ann Demeulemeester, Marina Yee and Dirk Bikkembergs 
ran Walter, the influential multi-label store, from 1998 to 2012
conceptualised urban interventions for Antwerp Mode 2001 Landed/Geland 
was appointed director of the fashion department of the Royal Academy of Fine Arts Antwerp in 2007 
curated various exhibitions, including Dream The World Awake in MoMu Antwerp (2011-2012), Powermask(2017-2018), WOEST (2019-2020) and Blind Date (2020)
collaborated as a guest designer with such brands as JBC, Coca-Cola, Eastpak and IKEA
sold his collections worldwide in stores such as Dover Street Market (worldwide), Vier (Antwerp), Stijl (Brussels), Comme des Garçons Trading Museum (Tokyo), LN-CC (London), Common Place (Beijing), Song (Vienna), Concrete (Amsterdam), Air Moscow, Congruent Space (Chicago), etc.
is the last independent designer of his generation, Walter Van Beirendonck has shown his collections at Paris Fashion Week for over 25 years 
Jury member Serge Carreira says the following: "Walter speaks an international language. He has a far-reaching voice that won't be pushed aside.' Jury president Chris Dercon adds: "The Walter Van Beirendonck label stands for high-value fashion. There is a sense of urgency in Walter's statements to the world. He formulates answers to questions that keep us up at night." 
How do you feel about this sort of recognition?
Not that I thought the award was due, but I'm thrilled, of course. It's a token of respect and appreciation for my work, from people who actually know the fashion world, such as Chris Dercon and, in a previous edition, Patrick Scallon. This award aside, I didn't get the kind of appreciation that some of the others in 'The Six +1' received until relatively late in my career. People have always either loved or hated my unconventional approach. My collections may not always reveal how much importance I attach to shape, cut, fabric and quality, compared to other, essentially black or deconstructive collections. Some people think that I let colour, exuberance and statement outweigh my concern for technique and precision, which hasn't always made it easy, apparently, to judge my work in the same way.
Yes, in 2019 the New York Times did actually refer to the "couture level craftsmanship" of your designs.
For me, it's all about getting the balance right. And so you can't avoid this sort of extreme experimentation. I devote a lot of time to the process every season. It has a lot to do with my traditional training at Bartsons, where I worked after graduating, focussing on garment construction and tailoring, and on the fit of and improvements to their trench coats.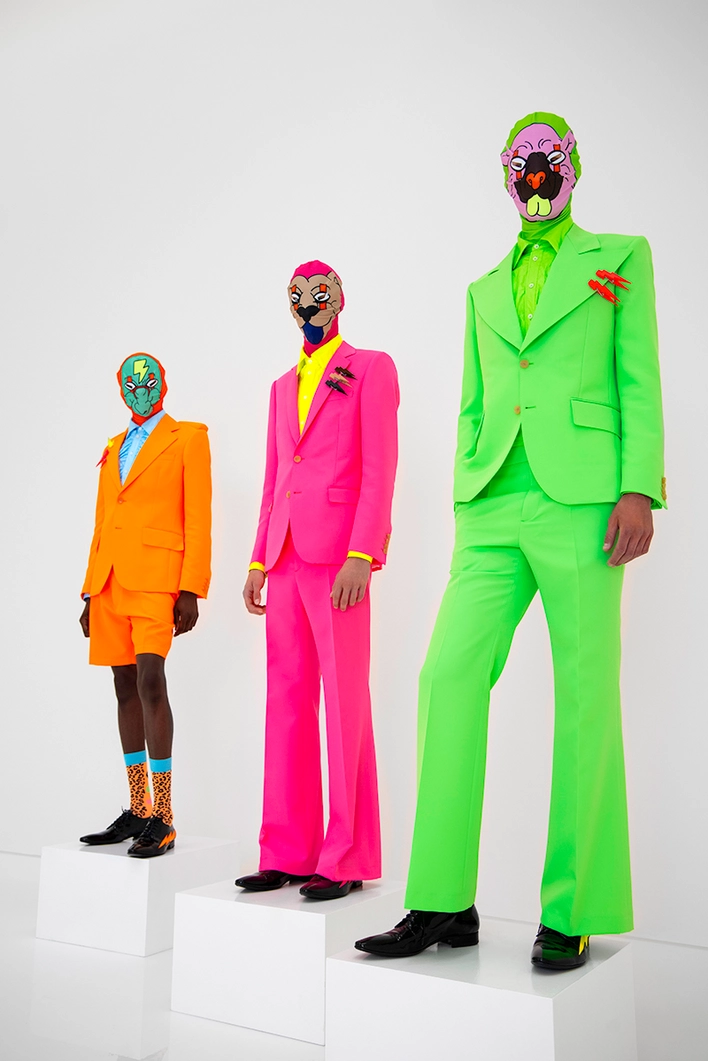 Bartsons was a local brand of raincoat, a sort of Belgian Burberry. You were newly graduated when they took you on. Can you tell us more about that time?
At the initial interview I remember wearing a leather jacket by Claude Montana. I felt a little out of place, but Bartsons was used to working with people from the Antwerp Fashion Academy. They were flexible, and they gave you the opportunity to pick up new skills. The design studio was next to the factory where everything was produced: you could confer with the pattern makers, machinists and seamstresses. An extremely useful learning process.
When did you get the itch to focus on your own collections and push for an international breakthrough?
As well as working at Bartsons I worked as a stylist for Flair. I couldn't get around to my own collections until the evenings and weekends. It was immediately clear to me that I needed an international audience for my output. One of my first clients after the British Designer Show (where the Antwerp Six broke through in London in 1986, ed.), was Browns, the renowned boutique in London, where they made a beautiful shop window display around 'Let's Tell a Fairytale', my second collection to be shown in London. Meanwhile, as 'The Antwerp Six', we had attracted the attention of the international press, and they were writing about us in magazines like Blitz and The Face.
Did the international exposure make it easier for you, financially, to keep your label going?
I worked so hard at Bartsons and Flair that I actually had the money to invest in the collections. Back then, it was a pretty small-scale operation. It was hard to make ends meet, and the funds were found by doing extra jobs. It was quite a challenge.
When did you actually go abroad for the first time?
In my early teens I went on a school trip to London and Paris. We would also go on family drives to Germany, and to London regularly – we took the hovercraft in those days.
Your parents had their own business, a garage. Might this have inspired your work in that period?
I remember seeing my dad in overalls most of the time. My mother did the office work, and she and I would go to Antwerp to pick up parts. She would always make the effort to dress well, and we would go to shops like Princess and Innovation. I spent a lot of time with my grandmother too. She used to say: "Get the kind of job where you need a white shirt, it's important". You had to aim for the suit and the white shirt. But then you hit puberty and you go looking for more because of music and other stuff. When I enrolled in the Antwerp Fashion Academy at eighteen, the world opened up to me.
You made your mark in Antwerp and stayed here in the end, despite opportunities abroad. Looking back, what do you think of that now?
I began teaching at the Academy early on, and I committed to being here - two days a week. Winning the Gouden Spoel gave Dirk (Van Saene, Walter's partner, ed.) the chance to work with Jean Paul Gaultier. But he decided not to, as we were in a relationship and I couldn't go with him. These are the kinds of decisions that have massive consequences, and, of course, you can't tell how things might have turned out otherwise. I stayed and put my energies into the school, and into the city, and the world simply came to my doorstep. We even organised showrooms in Antwerp. In Dries Van Noten's showroom, which was in my building, we put on a week for the big hitters in the international press. The Daily News-Record, Women's Wear Daily... everyone headed to Antwerp to see us in our habitat. Tourists soon followed in their wake. I think that's why we are still so strongly connected to Antwerp.
The outfits you designed for U2's PopMart tour in the late 90s were one of the most impressive tours of the day. How did the collaboration come about?
I had presented my "Avatar" collection in Paris in January 1997. Sharon Blankson, the stylist for U2, was a fan of mine, and she put my name to the band. It shook me a little, because I wasn't immediately drawn to U2 or the look they had at the time. But they were insistent. They flew me to Dublin, where they invited me to meet with them in a studio. That's where I saw this amazing model of the PopMart stage. Bono explained that the concept was based on a lot of artistic collaborations. I said yes, and they gave me carte blanche. We designed the whole thing in a matter of weeks. The idea was to make an Action Man of every band member, and to give them specific names and characteristics. They were incredibly excited about it. It was a nightmare to get it finished on time. We then flew to Las Vegas, and stayed there for quite a while. They had leased a stadium for the rehearsals and we were next door, doing constant fittings and adjustments. Bono is relatively small, so he wanted to appear tall and slim all the time. The whole thing eventually came to life, and it was phenomenal and truly audacious. It was an art statement. And it was thanks to this collaboration that my designs were also immortalised in an episode of The Simpsons.
You have always found it important to show your collections twice a year at Paris Fashion Week. Why is that?
For me, it is incredibly important to show that I've pulled it off again. Because doing these collections and catwalk shows and all the fringe activities, time after time, is far from straightforward. As for scope, I have never counted the items when I am designing them. I just want to tell my story, and I have a very clear sense of when it's done.

Risky and challenging projects often lead to new highs. One of your biggest ever fashion projects in Belgium was the urban intervention 'Mode/Fashion 2001 – Landed/Geland'. A multimedia fashion extravaganza that took over Antwerp for six months. One well-known designer that you were able to enlist was Rei Kawakubo. To this day she sells your brand in her legendary Dover Street Market stores and at the Comme des Garçons Trading Museum. 
How did you initially cross paths?
Dries Van Noten and I saw Rei's first collection in Paris when she was still unknown. He and I were working for the 'Oke' sportswear brand at the time. We just walked into her presentation. The next show that we saw - we were officially invited, I think - was her provocative "Destroy" collection, which the press described as "Hiroshima chic": you had absolutely no idea what had hit you. In the Gouden Spoel period we accompanied the Belgian ministerial delegation to Japan twice, on trade missions, as entertainment for the ambassadors' wives. (laughs). The first was with Martin, the second without. We were allowed to visit the Comme des Garçons atelier, where the pattern makers were at work. We thought it was amazing. We saw other fashion shows too. As a foreigner you could just walk in. I never met Rei on those occasions, and I couldn't have imagined that we would click, or even collaborate. But the more she showed her collections, the more you sensed her tremendous freedom, courage and strength. And, obviously, that appealed to me a lot. I went to Paris in 2000 to explain the Mode/Fashion 2001 Landed/Geland concept, and to tell her that I wanted to do an exhibition on her work. She went quiet for a long time. "It's not going to happen", I thought to myself. And then she uttered the words: "No static exhibition," as she hates them apparently. And: "Let's do five shows." I swallowed hard, how on earth would we manage that? But, once she committed to it, what a wonderful collaboration it was! We did five different shows with one collection. I did the styling, make-up and hair and chose the venue and music. Rei came to greet the audience for the first show, and the front row was packed with Belgian designers. A wonderful moment, because to this day she hardly ever does it. Afterwards, she donated the entire collection to the MoMu Fashion Museum.
The link with Rei has also been good for your label.
Since then she has always been extremely respectful. Walter Van Beirendonck is sold in every Dover Street Market store, and DSM Tokyo is the only outlet that doesn't carry my line. That's because Trading Museum is there, and it's the only Rei Kawakubo shop in which Rei still decides what is purchased. In Tokyo, in other words, she wants my collections in the CDG Trading Museum exclusively. And yes, once I was in Rei's boutiques, I gained immediate recognition from an entirely new audience. It feels great, obviously, to know that she takes you seriously, and that she backs you. And just this week we've had extra orders for Dover Street Markets, which is super, right?
Have you noticed any interesting developments at today's retailers?
I like the fact that I'm in a broad variety of stores. From the more streetwear-style stores like Vier in Antwerp, Concrete in Amsterdam and Congruent Space in Chicago, to Dover Street Market in London and the CDG Trading Museum in Tokyo - a wide range. I appeal to different audiences, apparently, and I find that fascinating. I'd say that Trading Museum and the Dover Street Markets are still the strongest concepts today, and I think it may have started with my own store, Walter. These ideas of what stores might look like have injected a new energy into retail. At this point in time I absolutely love the way social media allows me to connect with my customers directly. That really is the biggest improvement on the past. People message me, show me their outfits, and I reply. Obviously, I can't respond in detail, but I'll often send a thumbs up or a brief comment. They love that. It's a dynamic that goes way beyond the stores, very cool.
To the future, then. You're about to retire as director of the Fashion Department. You'll have some time to spare. What will you do with it?
To be absolutely clear here, I am only stopping as director. My label and the rest of my projects carry on as usual. I have always made time for challenging commercial projects and curatorships, thanks to good planning and co-workers I can rely on. I hope it continues: I would love to keep designing film and theatre costumes and curating exhibitions. I still have plenty of dreams. Before the first lockdown I had just finished the "Blind Dates" exhibition in Antwerp, which would normally have gone on to the S.M.A.K. It's all up in the air at the moment, but someone might still pick it up. I would also love to keep lecturing, but in a different way, giving workshops. And I'd like to go on an international tour with you, doing live interviews for schools and groups.
Last question on the future: who would you nominate for the jury prize at the next Belgian Fashion Awards?
Demna Gvasalia does amazing stuff and always alludes to how his training has shaped him. He speaks lovingly about his education and the lecturers at the Fashion Department in Antwerp, and it might be nice to select a non-Belgian who has received his training here.
Discover more in our magazine.