The Belgian Game Awards that were handed out in Kortrijk Xpo tonight proved to be every bit the celebration of the best Belgian game creators as we'd expected. Flanders DC deemed Hasselt based LuGus Studios, developers of popular drone racing simulator Liftoff, the rightful winner of the Best Business award. We hit up co-founder Kevin Haelterman to discover his business secrets. What followed was a story of ambitious students, wayward clients and a close family of friends.
LuGus Studios was founded in 2011 by graduates Kevin Haelterman, Tom Lissens and Robin Marx. Fast forward seven years and the Hasselt based studio, expertly managed by Haelterman and Lissens, has been around longer than most Flemish game studios. The secret? A close group of friends that love each other as much as they love their company. 
When did you first get the idea to start up LuGus Studios
I met Tom at school, where we were both enrolled in the Game & Digital Design master's program in Hasselt. In our final bachelor year it became abundantly clear that our degree wasn't going to cut it if we were hoping to break into the games industry. Ten years ago the options in Belgium were so limited, we were convinced we'd have to create our own jobs. After working together as trainees at Vertigo Games in Holland we were even more excited about starting a business. Two months after we graduated LuGus Studios was born.
That must've been a tall order.
We were already working on the concept, name and website during our master year.
We considered our graduation project as the very first LuGus project, and it actually helped us land our first client.
During a school presentation we were approached by some people that told us they had a budget for developing a serious game for their company. We immediately jumped at the opportunity and had to found our company in order to sign the contract with them.
Was focusing on serious games a deliberate choice from the start?
Absolutely! We knew that if we wanted to turn LuGus into a long term thing, exploring the serious market would be a good bet for us. It's not like we don't want to create pure entertainment products, but when you're operating in the B2B space and want to create games for clients, you automatically gravitate towards serious games. It's just a label anyway, as those games can be just as fun as "regular" games. Serious shouldn't be synonymous with boring gameplay or a bland graphical style.
Yet often it's precisely that.
Well, you didn't do a very good job, then. We always tell our clients that graphical style, story and characters are important elements in our games. We have a lot of clients that operate in fields we know next to nothing about. Often our games are an ideal way to present abstract and tough to digest subjects in a refreshing and fun way.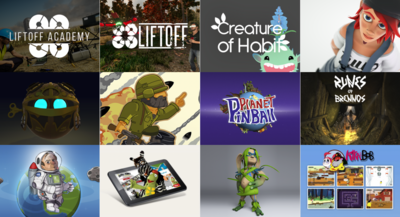 Creative entrepreneurs often wrestle with the business side of things. How did LuGus fare in that respect?
I wouldn't say we were born for it, but when I look back at the past seven years there are not many business decisions I regret. Important decisions were always made between the three, and after Robin left the company, the two of us. Nowadays every team member can pitch in.
What choices do you regret?
In our first year we made the rookie mistake to only pay attention to one project. We wanted to prove ourselves and this thing had to be perfect. And it was! We had calculated that two projects of this scope per year were enough to keep LuGus afloat. The only problem was we only started looking for it the moment we wrapped up that first project. We panicked a little back then, but in the long run it proved to be an invaluable lesson.
The biggest challenge for a startup company, especially when working with B2B clients, is building your network and gaining credibility.
During the early days we were always actively on the hunt for clients. These games don't come cheap and a couple of young chaps telling experienced business owners why they needed one wasn't a story that always went down well. The B2B work we're executing now is usually for returning clients or new partners that have seen what we've done for other companies and liked what they saw. Also, Liftoff is eating the majority of development time right now, anyway.
Why did you end up shifting development focus from B2B to your own IP?
We were pretty much forced to. At a certain moment in time there's this big client that expects us to grow and hire extra people. We're excited about the idea and invest heavily, only for the client to pull out of the deal at the very last minute. Those were rough times. If we hadn't been able to find another project in within 30 days, we surely would have gone under. Fortunately we pulled through.
That harrowing experience taught us two things. One: we were never going to run with a similar investment idea again and two: we wanted to become more independent from the sometimes erratic attitude of clients. In between different client projects, we sometimes used some spare time to develop small prototypes of ideas that looked fun. One of those was Liftoff.
What inspired you to create this particular prototype?
Someone had showed me a movie of drone racing, which I thought looked rather spectacular and a great fit for a game. Our methods at that time were always the same: we created a small prototype and released it to the world to gauge public interest before deciding what to do with it. These projects were so small that they were allowed to fail and they usually did.
Some time after we uploaded a YouTube clip from the Liftoff prototype, we were contacted by one of the key players in the world of drone racing.
Nobody on the team was prepared for the crazy adventure that would ensue in the following years and continues up to this day.
Liftoff is a beautiful example of the perfect marriage between creativity and business opportunities. Is there a silver bullet solution to keep them in balance?
I don't know if it's the ultimate solution, but the way we managed is I haven't been on active development for three years in order to allow me to focus on the business end of things. I've taken on more of a producer role since then, but the team is so talented that they're able to whip stuff up better and faster. That way I'm able to plough myself through tons of e-mail or interact with clients. I've really started to embrace that part of entrepreneurship, even though I sometimes feel like the secretary of the studio (laughs).
How did you go about expanding the team?
Most people that become full time staff have worked with us before on freelance jobs or during their traineeship. We know exactly what we're buying when we hire and we make damn sure that everyone owns the same mindset and fits our company culture. We owe a big part of our success to the group of close friends that have each other's backs any day of the week. Every new employee imports a specific character and skillset, slightly changing the dynamic of the team but always for the better. 
Hiring staff comes with extra responsibilities though.
That's very true. As I've already said we try to involve them with every major decision. When the aforementioned client project was cancelled, we knew things might become thorny. We went back and forth about this but ultimately decided to alert the team to this situation and literally showed them how much (or how little) money was still on the account. We told them they were free to leave for greener pastures and we would absolutely respect their decision to pursue a higher level of certainty. Not a single person left. We survived and through all of this have always been able to pay our team. 
Is there even more growth around the corner?
LuGus is seven people at the moment.
I like the flat hierarchy where Tom and I are able to loosely manage our staff, but they still get a lot of independence and say in matters.
That won't work nearly as well when your team size has double digits. So yes, we have the ambition to grow further, but we'd rather do so slowly, in an organic way. We're not students anymore. Some of us are trying to raise a family, and so we don't want to expose ourselves to unnecessary risks. That's perhaps a meek way of expanding your business, but the last thing I want is a business decision to negatively impact the personal life of our phenomenal team.
Discover more in our magazine.